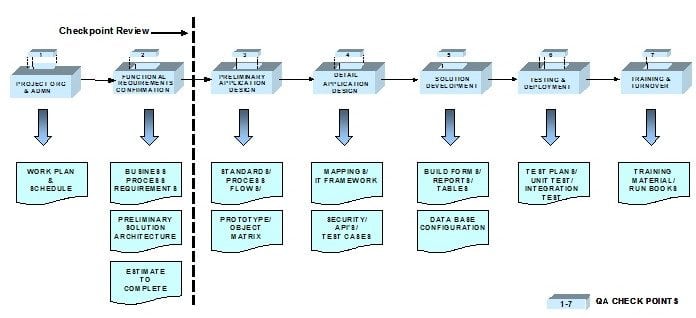 GEC BPAM Consists of Discrete Work Steps to Yield Expected Results
GEC conducts a structured walk-through with end-users to obtain final design sign-off. The database design is completed, while security and control issues, conversion planning and execution, network configuration, interfaces, system backup and recovery, and system test plans are addressed. Customization requirements are completed, all forms and reports are developed, training material is developed, documentation and operating manuals are completed, and the BPM solution is thoroughly tested. GEC works with our client counterparts to facilitate a successful system startup. Post implementation review is standard practice to provide quality assurance.
Strong Project Management Discipline
We ensure there are no surprises. All issues that emerge throughout the course of our engagements are documented, tracked, and reported with total transparency. Our project management approach includes schedule control, change control, and progress monitoring on a weekly basis. We work directly with our client resources at all times, valuing their unique perspective and understanding.
If you have any questions about our business process implementation services, please Contact Us at 678-525-7677 today.
Learn More About Each Process Below: